It's December, it's summer and it's holiday! Here is your change to experience and capture the Surfing Lifestyle, become a surfer and a model, be cool and share everything on your social media that will make your mates green with envy!
Justasurferdude Adventure Photography and Richard Myburgh Surf, in collaboration with Gone Surfing Surf Shop in Melkbos is having a special on Surf lessons, photoshoots and surfing equipment this summer. In a nutshell…or shall we say in a seashell…. this is what you get.
You can either do a surf lesson with Richard Myburgh or do a beach shoot with Justasurferdude…or you can do both and get a soft-top surfboard and/or wetsuit from Gone Surfing Surf Shop for 15% less.  
Surf Lessons: R300
Want to be a cool surfer? Do a 1 hour surf lesson at any beach between Milnerton and Melkbos, depending on weather and wave conditions.  You don't have to be a surfer, Richard will teach you how to surf and will provide the equipment (wetsuit and surfboard).
Surf Shoot: R300
Want to look cool on Instagram?  Do a 1 hour beach shoot with the professional Justasurferdude and walk away with 15 professional images which you can use in portfolios, social media or print for your bedroom wall. You don't have to be a model, Justasurferdude will teach you how to model and will provide the props.
Or what about this deal? 
You can have your surf lesson captured by Justasurferdude and get 15% off your new wetsuit and/or soft-top surfboard from Gone Surfing Surf Shop. Now this is the full package to not only dream about the Surfing Lifestyle, but to actually live it!
For more details or bookings you can call or whatsapp us on:
Richard: 081 561 4064
Manie (Justasurferdude): 0824142111
or you can visit of call Gone Surfing Surf Shop in Melkbos on: 021 552 0387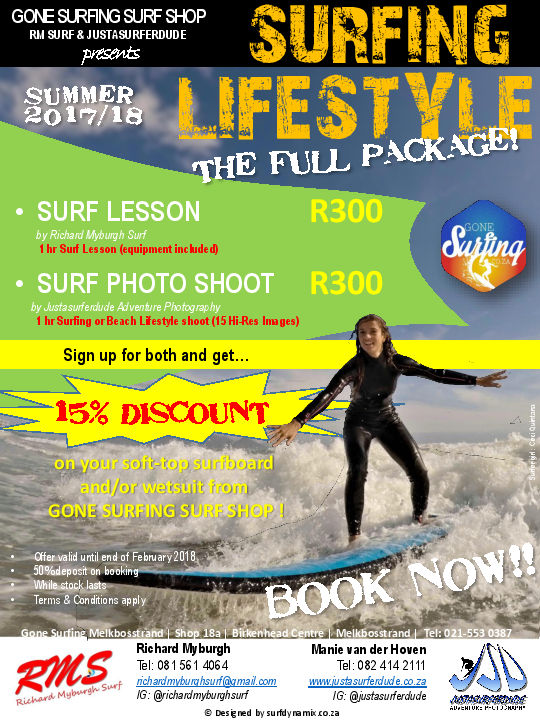 Model: Ceci Quintana