Cape town is notorious for heavy storms, usually accompanied by rain and strong wind. What Capetonians rarely see however is thunder and lightning.  I have been waiting for months now to catch a good electric storm over the sea close to Table Mountain but when it happens it is usually at a time when I cannot get down to the beach, or the lightning is all over the place and not happening in the right spot. Two nights ago I went down to the beach for a normal evening of photographing surfers. As I got to the beach I saw the lightning coming towards us from across the sea.  I did not bring a tripod as I was not expecting lightning on the day and I was convinced that I was not going to get any shots.  Most of the lightning was also flashing behind Robben Island and I wanted it closer to Table Mountain.  When it got dark I drove home, but on my way I saw a few flashes in the direction of Table Mountain.  Without a tripod I knew it was going to be difficult, but I found a empty fruit carton box in the back of my car and used it for a tripod.  Then the wait started. Will I get the shot?
I was shooting with a Canon 7D on Bulb mode.  My camera for some reason takes quite a while to process the image after the shot was taken. This was very frustrating because the lightning seems to trigger at the times my camera was working on the image.  I got one or two shots, but when I struck this one I was totally overwhelmed with joy.  This is the shot I always wanted. I did very little post processing on this shot, it was just one of those that I captured as is and wanted to keep that way. Sometimes it is worth the wait.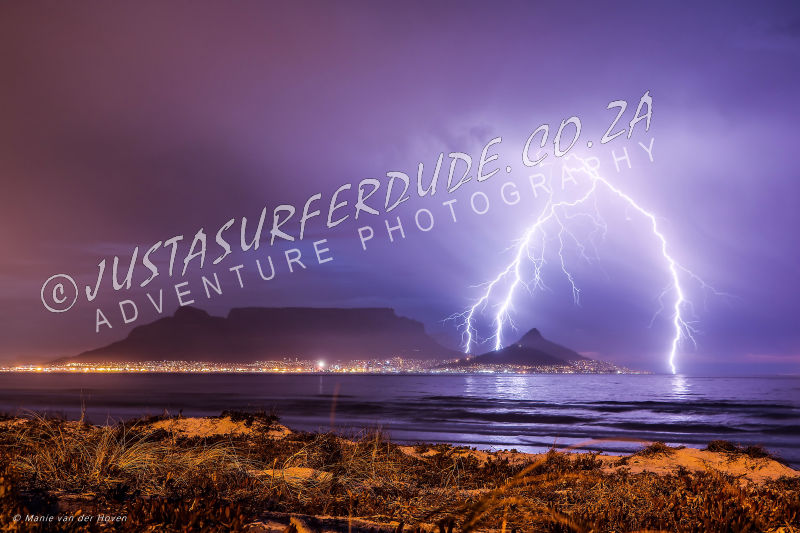 I really want to share this image with everyone loving Cape Town is is giving it a way for a special price.  See my blog post on Electric Landscape Special.